Union Finance Minister Nirmala Sitharaman delivered her third Union Budget in Lok Sabha on Monday, February 1.
The FM announced an allocation of Rs 71269 crore for the healthcare sector in the 2021-22, in 2021- 21 the outlay was Rs 69,000 crore (a 3.28 percent increase over last year) and Rs 62,659.12 crore in 2019-20. And since the pandemic ended up increasing last year's budget expenditure to Rs 78,866 crore, technically, the allocation proposed for the upcoming fiscal year is lower than 2020-21.
The FM speech said,
"The total budget outlay for healthcare is Rs. 2.23 lakh crore. This is an increase of 137 percent from last year. Rs 64,180 crore will be invested over 6 years to improve primary, secondary, and tertiary healthcare. This is in addition to National Health Mission.
The government stretched its resources for the benefit of the poorest of the poor. Health outlay to be used to establish critical care units and hospital blocks. Rs 2,217 crore outlay for 42 urban centers to tackle air pollution.
Vaccines will be rolled out across the country. This will prevent over 50,000 child deaths annually. Rs 35,000 crore for COVID-19 vaccines.
Healthcare, the foremost agendum of Finance Minister Nirmala Sitha­raman's Budget speech, saw an allocation of Rs 223,846 crore —an increase of around 118 percent over the Revised Estimate — to cover "health and wellbeing" with a large chunk, Rs 35,000 crore, going tow­ard COVID-19 vaccination, a move widely cheered by the industry".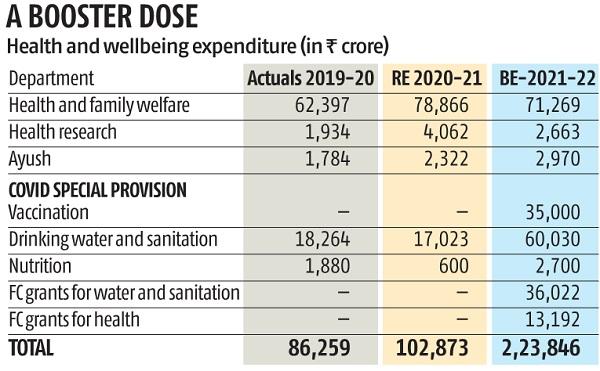 The increase in allocation pegged at 137 percent by the finance minister was calculated over the Budget Estimate of 2020-21. Much of the increase in this year's allocation for health and wellbeing is largely attributed to expenditure set aside for COVID vaccination and the finance commission grants for water, sanitation and health, and overall allocation to drinking water and sanitation.
If the cost per dose of vaccine is estimated to be around Rs 250, the government cannot cover more than 200 million people. This has probably been done keeping in mind the low turnout for the national vaccination program.
For the health ministry itself, which spearheaded the pandemic response of India, the allocation has gone down by almost 11 percent. The expenditure budget for the departments of health & family welfare and research has dropped. However, the Revised Estimate itself was about 24 percent more than the budgetary allocation for 2020-21.
The announcement of the launch of a new centrally sponso­red scheme, PM Atmanirbhar Swa­sth Bharat Yojana, with an outlay of about Rs 64,180 crore over six years is likely to boost healthcare infrastructure at the grassroots. "This will develop capacities of primary, secondary, and tertiary care health systems, strengthen existing national institutions, and create new institutions to cater to detection and cure of new and em­e­rging diseases," Sitharaman said.
The scheme also plans to set up 15 health emergency operation centres and two mobile hospitals and expand the integrated health information portal to all states and Union Terr­itories to connect public health laboratories. The government will also set up a national institution for One Health, a regional research platform for WHO Southeast Asia Region, nine bio-safety level III laboratories and four regional Nati­onal Institutes for Virology as part of the yojana.
The FM announced that it will support 17,788 rural and 11,024 urban health and wellness centres. Building critical care hospital blocks in 602 districts and 12 central institutions is also part of the plan, along with operationalizing 17 new public health units and strengthening 33 existing ones at various points of entry, including 32 airports, 11 seaports, and seven land crossings.
The Centre approved an outlay of Rs 3,800 crore for the hospital in Monday's Budget when it had allotted Rs 3,490 crore last year. All India Institute of Medical Sciences got a hike of over Rs 310 crore in the Union Budget 2021-22. Apart from AIIMS, Centre has increased the Budget outlay of other major hospitals in Delhi too. Safdarjung has been allocated Rs 1,515 crore, an increase of Rs 227 crore from last year's Rs 1,318 crore. Ram Manohar Lohia has been allocated Rs 950 crore. The Budget outlay for Lady Hardinge Medical College and Sucheta Kriplani Hospital are Rs 600 crore and Rs 145 crore, respectively.
Though the allocation to the department of research under the health ministry reduced by over 34 percent from Rs 4,062 crore in 2020-21 to Rs 2,663 crore in the Budget 2021-22, the FM announced an outlay of Rs 50,000 crore for the National Research Foundation over five years to "ensure that the overall research ecosystem of the country is strengthened with focus on identified national-priority thrust areas".
The government also proposed to merge the supplementary nutrition program and the Poshan Abhiyaan to launch the Mission Poshan 2.0 to improve nutritional outcomes across 112 aspirational districts. The Centre will take steps to strengthen the five regional branches and 20 metropolitan health surveillance units of the National Centre for Disease Con­trol, which has played an important role in conducting the sero surveys in the country to understand the spread of coronavirus in the population.
The finance minister also announced pneumococcal vaccine, also known as pneumonia vaccine, will be rolled out across the country from just five states at present. The vaccine is expected to avert more than 50,000 child deaths annually.
Stalwarts respond
P Chidambaram, Member of Parliament, Rajya Sabha: "Finance Minister Nirmala Sitharaman has deceived the poor, the working class, the migrants, the farmers, the industrial units that had been closed down permanently, and those who had lost their jobs, and there is no heart behind the budget. The opposition parties expressed anguish with the way budget has been structured in the backdrop of a slowdown.
Chidambaram dubbed the claims of increased allocation for health a "conjurer's trick". She (Union Finance Minister Nirmala Sitharaman) added the one-time cost of vaccination (₹35,000 crore) and the Finance Commission grants amounting to ₹49,214 crore and included the allocations to the Department of Water and Sanitation. Shorn of these add-ons, the allocations for health were ₹72,934 crore in 2020-21 and ₹79,602 crore in 2021-22. Given inflation, the increase is practically nil.
Intentions only
He said people will look through the promises made for States such as Tamil Nadu, Kerala and West Bengal where elections are round the corner.
The voters are not fools. They know that these are outlays. These outlays will not be backed by any money in this budget. I challenge the government to show me one line of entry in the expenditure budget providing one rupee for these programs. It will not be there.
The increase in FDI in the insurance sector was inevitable. He reminded the BJP that it had voted against the Bill allowing 20 per cent FDI in insurance in 1997 and then Prime Minister IK Gujral had to withdraw it. Today they have allowed 74 per cent FDI in insurance, which is okay in terms of capital mobilisation. They are also going to privatise one of the major insurance companies. I would like to see the reaction of the employees of the insurance companies and the people.
Missing in middle
If spending takes place on roads and ports, big business will benefit. We welcome spending on infrastructure. But after 12 quarters of slowdown, equal emphasis should have been given to the poor, to the working class, the migrants, agriculture labour and the daily worker. That is completely missing. The budget may have had a mind behind it, but there is certainly no heart behind it.
West Bengal Finance Minister and Trinamool Congress leader Amit Mitra said the Budget is not only visionless but also confused. "The only clarity lies in how to sell off government resources and as a result, inequalities have risen. Informal and unorganised sector has not even been mentioned in the Budget.There is nothing innovative for small and medium units.
He said the Centre has put a cess for agriculture infrastructure, petrol and diesel cess for agriculture. The minute you do cess, you do not have to give the money to the States. From 2.5 per cent of cess and surcharges in the Union Budgets till this government assumed power, it has been raised to 16 percent.
CPI(M) general secretary Sitaram Yechury said the budget is neither for the people nor for much publicised V-shaped revival of the economy, but for a K shaped- rich becoming richer, poor poorer. "Budget projecting self reliance, promotes self subservience to corporate profits through a loot of national assets and large scale privatisation. FDI limits in LIC and financial sector hiked for profit maximisation".
Dr Alok Roy, Chair, FICCI, Health Services Committee and Chairman Medica Group of Hospitals: "India Inc. and especially the healthcare industry which has been battling the demon of COVID-19 and its aftermath should consider this year's budget a blessing. Quite rightly, the budget has focused on health and well-being, infrastructural reforms, development of human capital and minimum government and maximum governance. The very fact that government has put health as the first pillar shows that finally it is being considered as the prerequisite to ensure economic well-being of the country. Budget 21-22 seems realistic, constructive, and Hon'ble Finance Minister showed her commitment toward the healthcare sector, which needed a boost urgently. The Aatmanirbhar Health Yojana in addition to the National Health Mission with an outlay of Rs. 64,180 crore over six years is a welcome move, towards strengthening primary, secondary and tertiary healthcare in the country, addressing the preventive, curative, and wellbeing of the population. This will also intend to develop capacities of health care systems, develop institutions for detection and cure of new and emerging disease as the first step to boost rural health and keep country ready for emergency handling of pandemic situations. Further, increasing access to pneumococcal vaccine to all states and budget outlay for health and welfare by the allocation this year of Rs. 2,23,846 crore in the healthcare sector a rise by 137 percent as compared to previous year will prove to be a major increase in the public health and pharmaceuticals sector. This will definitely strengthen the National Centre for Disease Control and make India future ready for any further health crises. With the incorporation of 17,788 rural and 11,024 urban health and wellness centers, the budget rightly addresses the need to reach the last mile population. The decision to set up integrated public health labs in all districts and 3382 block public health units in 11 states along with critical care hospital blocks in 602 districts and 12 central institutions is creditable but more might be required in a country where the patient doctor ratio is abysmally poor. Expansion of the Integrated Health Information Portal to all States/UTs to connect all public health labs is a step ahead toward digitization and is a positive move. India has done exceptionally well considering the density of populace in talking the pandemic. Setting aside INR 35,000 crore and more if required for COVID-19 vaccination drive is laudable and shows that government has prioritized the sector. India unfortunately has the highest mortality rate for children, the decision to launch Mission Poshan 2.0 is a praiseworthy move to prevent over 50,000 child deaths annually. The Rs. 2217 crore outlay for 42 urban centers to tackle air pollution, one of the deadliest pandemic which is obliterating mankind for years and acts as slow poisoning is also commendable. The resolution to set up integrated public health labs in each district about 3,382 block public health units in 11 states is noteworthy. Establishing critical care blocks in hospitals is essential from our learning from the recent pandemic and a right move by the government. Overall the proposals made in the Budget 21-22, would make quality healthcare accessible and affordable, besides standardizing healthcare infrastructure across the country. We await the on ground implementation and operational details of the scheme now."
Kapil Banga, Assistant Vice President, ICRA Limited: "The budgetary allocation for healthcare sector for FY2022 will translate into 10 percent drop in the allocation, if compared to the RE for FY2021. Nonetheless, the allocation translates to growth of 11 percent, if it is compared to the BE for FY2021. The government has launched PM Atmanirbhar Swasth Bharat Yojana (PMANSBY) and has also allocated Rs. 35,000 crore towards cost of vaccine. However, as the total allocation towards the healthcare sector has come down vis-a-vis RE for FY2021, this could translate into cutting of expenditure on other avenues within the sector. The continuing modest allocation toward the healthcare sector would make it challenging for the Government to meet its target of public sector healthcare investment of 2.5 percent of the GDP by 2025″.
Rajiv Nath, Forum Coordinator, Association of Indian Medical Device Industry (AiMeD): "Sometimes a crisis helps to come out with bolder decisions. Major fillip to Healthcare through PM Atmanirbhar Swastha Bharat Yojna, PLI scheme, health infra allocation, focus on new and emerging diseases and health labs will surely address major gaps. Finally we may have something to help accelerate medical devices manufacturing as a Make in India enabler so that Indian National Healthcare security concerns are addressed – the inadequacy of which is being exposed in the crisis to address the coronavirus epidemic preparedness. We look forward to read the fine print.
We had been hoping that this will be a Make in India push budget for an Atmanirbhar Bharat and though the FM has highlighted the need to support manufacturing sector to be part of global supply chain and need for it to grow on double digit sustained basis. We, the Indian Medical Device Industry, are disappointed not to notice any changes in custom duty as done for other sectors and are very hopeful that the fine print of the Union Budget would have possibly acted upon our recommendations on a predictable tariff policy for a Make in India push for phased manufacturing plan for components and finished medical devices and allocations for testing infrastructure as well as for MedTech Parks and cluster developments. Supporting policies are needed so that Indian medical devices industry can make quality healthcare accessible and affordable for common masses, aim to place India among the top 5 medical devices manufacturing hubs worldwide and help end the 85 percent import dependence forced upon us and an ever increasing import bill of over Rs. 42000 crore."
Sanjay Bhutani, Director, MTaI: "The Budget 2021 was presented amidst the unprecedented times of COVID-19 pandemic recovery. In the previous fiscal, entire fiscal management was shaken with the COVID-19 related lockdowns, job losses, financial stimulus and negative GDP growth. In this backdrop the government was faced with doing the balancing job between stimulating economy back to high growth trajectory, job creation and at the same time keeping check on inflation and fiscal deficit (9.5% in 2020-21). From the budget proposal, it seems that the government has done well in keeping with the investment focus and job creation through capital buildup. We also welcome the move towards raising healthcare spends by almost 137 percent, although a good part of this will go towards managing COVID vaccination etc. We are also happy to note that the government has announced the launch of 'PM Atmanirbhar Swasth Bharat Yojana' with a total outlay of Rs 64,180 crore over a period of next 6 years. This will help us with the much needed development of public healthcare systems. The government has done well at showing restrain and not looked at introducing short term tax measures linked to tax mop up like cesses etc. though it was expected that it will take measures at rationalizing some high tax brackets to improve disposable income and boost spending. In terms of finding funds for the investment ramp up which is vital for revival of economy, the government is relying on funds from divestment, high GDP growth estimated with economic buoyancy post with COVID-19 slowdown and better degree of tax compliance and has also taken a longer-term target to reign in fiscal deficit with 2021-22 estimated at 6.8 percent. If these do not go as expected, the affect could be inflationary. A lot will depend therefore on the efficacy of execution, actual GDP growth, disputes settlement and government meeting its privatization targets. Overall, we feel it is a balanced budget that should provide long term tax rate stability, reduce cost of compliance and litigation and goes to building the infrastructure to support high growth."
Pavan Choudary, Chairman & Director General, MTaI: "The government (DOP, MoHFW, DPIIT and MOF) gave us an equitable hearing and we we are thankful for that. Though we still need to go through the fine print, the budget has put on hold any further increase on customs duty on most medical devices & equipment. The rolling back of the health cess is our other demand which will help us preserve jobs, jobs which are instrumental in making the Healthcare workers become patient ready at the time of a healthcare crisis like this. In similar expression of patient interest, we have also sought that the GST slab for medical devices be brought down from 12 percent to the rate of preferential products i.e. 5 percent. Though these demands have not been accepted yet, we are pleased to note that the budget is reflective of the realization that healthcare is a vital sector and the government is going in a thorough fact finding mode to make evidence based fiscal policy. We are quite sure that this mode will automatically throw up the real performances of various industry groups against their promises. Our performance as a cohort, despite the unintended consequences we faced is evident in this resurging tally of FDI especially since January 1, 2020.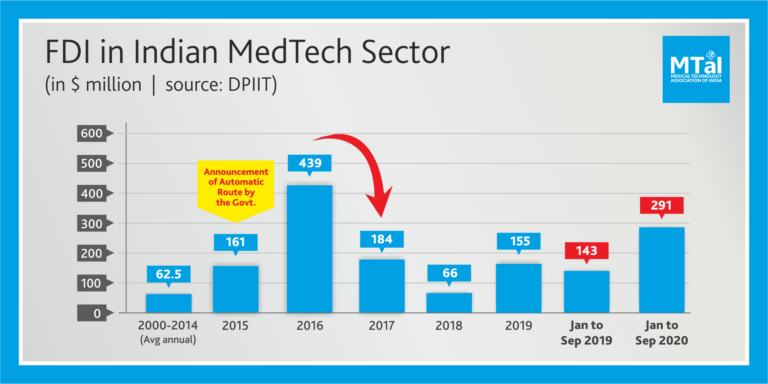 Post pandemics the real estate and healthcare sectors come creatively together and therefore the stress on the former is also salubrious for the emerging epicenters of healthcare like homes, micro-hospitals and step up and step down facilities which will start dotting the healthcare landscape.
Both MTaI and our member companies like Medtronic and Stryker, just to name two, have responded to the clarion call of our PM and have substantially enabled the MedTech startup ecosystem in India through open sourcing vital designs or providing legacy technical knowhow, and we are really gratified to see meaningful support coming for startup finance in the budget. Overall it is a visionary budget.
To bring the health care system fully back on track we need to first of all protect our healthcare workers because it is through them the elective surgeries will come back on course. Part of this frontline team are the MedTech executives who visit Operation theaters and Emergency rooms and other facilities in hospitals daily as part of the procedure and demonstration teams. Due to the nature of their job, these frontline Medical Device workers may even be more susceptible to contracting the coronavirus than some of the other beneficiary groups chosen for vaccination, as they end up working in environments where the treatment of COVID patients is actually happening. When the security guard at the hospital is provided vaccination – which by the way is a commendable and inclusive step – these workers should also be included in the initial vaccination drives. The funding of this drive can come from the healthy Rs. 35,000 crores allocated, or even from the companies which employ them".
Charu Sehgal, Partner and Leader, Lifesciences and Healthcare, Deloitte India: "It is very encouraging to see the focus on healthcare in the budget and a 137 percent increase in outlay in healthcare and wellness over last year. There appears to be an integrated attention to epidemiology, diagnostics and treatment at all levels including district and blocks."
Satyam Shivam Sundaram, Partner, Government and Public Sector, EY India:"Allocation of Rs 2,23,846 crore (137% increase compared to FY 2020-21) toward healthcare is not only in line with the immediate requirement to deal with pandemics like COIVD-19 but also consistent with the National Health Policy 2017, which aspires to increase expenditure on healthcare to 2.5 percent of GDP. Further, the new centrally sponsored scheme 'PM Aatmanirbhar Swasth Bharat Yojana' would provide an additional impetus and complement the NHM budgets to accelerate the development of primary, secondary, and tertiary health care infrastructure. It is also heartening to see that there is a special focus with substantially increased allocation on social determinants of healthcare including launch of Mission Poshan 2.0 to improve nutritional outcomes, Jal Jeevan Mission ensuring universal water supply, Urban Swachh Bharat Mission focussing on solid and waste water treatment, source segregation of garbage, reduction in single-use plastic, reduction in air pollution, among others. This increased allocation would not only improve the health outcomes but also go a long way in the achievement of 5 out of 17 sustainable development goals (zero hunger, good health & wellbeing, clean water & sanitation, sustainable cities & communities & climate action)."
Dr Prathap C Reddy, Chairman, Apollo Hospitals Group: "The COVID-19 pandemic was an unprecedented medical crisis and it underlined the importance of building a resilient healthcare infrastructure. Today, the Hon'ble Finance Minister's said health was her first pillar and her announcements to develop primary, secondary and tertiary healthcare systems, greatly gladdened my heart. This ground-breaking focus on health which will provide access to medical care for all in our country, fuel job creation and boost economic momentum.
India's efforts in managing the pandemic have been exemplary – our frontline workers and scientists have been working tirelessly to save lives and develop indigenous vaccines. Now the allocation of Rs. 35,000 crore for COVID-19 vaccines and more if required, makes our glorious nation stand tall as a model for the world.
We must now look at the next crisis of non-communicable diseases, which will be responsible for 80 percent of deaths and cause a USD 3.8 trillion burden to the country by 2030. It is important to focus on prevention, early detection and possible cure to protect Indian families from grief, financial burden and to help the GDP grow. India having proven its clinical excellence, should now focus on clinical trials, research, innovation and technology. There is potential for India to become the largest global health technology center. As an additional opportunity, India can generate employment and be a healthcare service provider for the world."
Dr Ashutosh Raghuvanshi, Managing Director and CEO, Fortis Healthcare: "This year's budget celebrates India's commitment to being 'Atmanribhar' and Fortis Healthcare lauds the Hon'ble Finance Minister, Nirmala Sitharaman for the 'Atmanirbhar Swastha Bharat Yojana' for which Rs. 64180 crore are being earmarked over 6 years, in addition to National Health Mission, focusing on primary, secondary and tertiary healthcare. The 137 percent increase in the healthcare budget from last year is notable. Further, an infusion of Rs. 35,000 crore for vaccine development and distribution, ensuring preventive health and frontline health and allied workers' skills building along with surveillance on infectious building, reinforces Government's assurance on public health programs. We feel that the steps are necessary to boost healthcare infrastructure and the private healthcare sector will continue to stand with India and support the government initiatives".
Dr K. Hari Prasad, President, Apollo Group – Hospitals: While health is a primary prerequisite for any human being, it never received the importance it deserved. The pandemic has propelled health into the forefront and this is aptly reflected in the budget presented today. The outlay toward prevention, treatment, and wellness is welcome and should impact the health indices positively. Almost the entire budget is targeted at public healthcare infrastructure and facilities and talks about enhancing primary, secondary, and tertiary care. This must improve public healthcare infrastructure and services which is a welcome phenomenon. However the budget has been silent on certain critical aspects of healthcare which we hope will be addressed in due course. Health insurance premiums are increasing and increasing the premium amount for tax exemption would have been a great initiative to increase the number of people covered by health insurance. This would have helped the huge middle-income population in our country. Private health sector which is a significant provider in India has shared the responsibility of fighting COVID with the government. Many private providers particularly the single doctor clinics, nursing homes and smaller hospitals are struggling for survival and deserved some relief in the budget. India was always self-sufficient in terms of availability of high quality healthcare services. Patients from over 200 countries travel to India for healthcare and this adds to the wealth of the nation. Facilitating medical travel into India is another opportunity which should have been leveraged. It is practically impossible to achieve everything in one budget, but it is gratifying to note that a good beginning has been made. I believe this lays the foundation for many other required interventions to improve the health of the nation".
Vikram Thaploo, CEO, Apollo TeleHealth: "The Finance Minister, Nirmala Sitharaman announced an allocation of Rs. 64,180 crore over the next 6 years for the healthcare sector in the 2021 Union Budget. The budget allocated is in addition to the National Health Mission which is already in effect. One of the key initiatives proposed in this year's budget is the addition of 17,000 rural and 11,000 urban health and wellness centres which is supportive move for better patient care and will also pave way for more public-private partnerships. Also, the government has proposed to set up integrated public health labs in each district with 3,382 block public health units across 11 states. Another welcoming move is the outlay of Rs. 1.41 crore for the Swach Bharat 2.0 mission which will help improve sanitisation and transform the lives of millions. Considering the government's effort to curb the pandemic of COVID-19, it has also planned to set aside Rs. 35,000 crore for COVID-19 Vaccine in FY22. Though, it must be admitted that the government has re-shifted its focus on healthcare in this budget, but considering the rapid integration of digital technology into healthcare, no major developments around digital healthcare or telemedicine was announced".
Cdr Navneet Bali, Regional Director, Northern India, Narayana Health: "The Union Budget this year has clearly announced the paradigm shift in the way we look at the health and wellness in our country. From 137 percent increase in healthcare budget allocation to Rs. 64180 crore spending in next 6 years towards the 'PM Atmanirbhar Swasth Bharat Yojana, this is a movement towards making our country more aware about wellness and ensuring that our citizens are more productive. When a country has more productive and healthy citizens it manifests into everything that we do and this budget typically has shown a direction towards how we are headed in the next five to 10 years. Setting up of health and wellness centers in rural and urban India, having integrated public health labs, having a nationwide pneumococcal vaccine which will prevent deaths of over 50000 children to the announcement of Rs. 35000 crore towards vaccines, I think these are very important and critical steps toward that direction. Along with that thinking about clean air missions in 42 urban areas with a million plus population, setting up of critical care hospital blocks 602 districts in India; I think these all are very important steps which will strengthen our healthcare. I think this budget points out that along with spending on treating illness it is also better for the country to work towards wellness and make the citizens healthy and productive. In that way I think this is an extraordinary and great Budget".
Dr Harish Pillai, CEO, Aster India, Aster DM Healthcare:"The increased investment towards health infrastructure and focus on a holistic approach to health is seen as a testimony of the commitment to building stronger health systems. The launch of the Atmanirbhar Swasthya Bharat Yojana with an outlay of Rs. 64,180 crore will boost the healthcare ecosystem. The investment will aid in developing capacities of healthcare systems, develop institutions for detection and cure of new and emerging diseases. This in addition to the National Health Mission, will support rural and urban health care centres. The all-inclusive approach through the launch of Mission Poshan 2.0 to improve nutritional outcomes and continued focus on cleanliness through Swachh Bharat Mission and potable drinking water through Urban Jal Jeevan Mission will subsequently bolster public health. The commitment to Rs. 35, 000 crore for the COVID-19 vaccination program and the promise to further provide funds if required, will accelerate the vaccination across the population. Strengthening of the National Centre for Disease Control (NCDC) and setting up of a National Institution for One Health, Bio-Safety Level III laboratories and regional National Institutes for Virology will provide a thrust for the improvement of the healthcare sector in India, which is commendable. Overall, it is a landmark budget to help fill-up the growing needs of improved healthcare in the country".
Akshat Seth, COO, CK Birla Healthcare: "Budget 2021 will be remembered as the game changer for healthcare spending in India. The outlay has been more than doubled & the good news is that this will be the new normal for years to come. There is a sense of balance with emphasis not only on strengthening the healthcare infrastructure but also on building platforms for research and innovation in public sector. There is focus on wellness, preventive and on curative care and also on immunization (beyond Covid). Programs on Nutrition (Mission Poshan) & Sanitation (Swachh Bharat) will further strengthen health outcomes. We will have to study the detailed papers to see the envisaged role for private sector in these initiatives – for instance in the COVID vaccination program and in building a stronger base for Innovation. Investments in Digital health infrastructure is perhaps the only notable omission in the budget today."
Dr Shravan Subramanyam, Managing Director, Wipro GE Healthcare: "It is heartening to see the government's focus on health and wellness for a Atmanirbhar Bharat. With 137 percent increased budget allocation healthcare has taken center stage for the benefit of citizens of India. We applaud the new budget which takes a holistic view of healthcare to move towards Atmanirbhar Bharat with emphasis on preventive, curative and wellbeing, reducing rural urban divide and capacity enhancement interventions across the value chain. Our endeavor for the past 30+ years have been to ensure quality and affordable healthcare is accessible to the doorsteps of people through our local manufacturing, R&D, digital and skilling efforts delivered through the wide network of sales and services personnel and partners. We wish to partner with the government and other players to strengthen and bring to reality the newly launched Atmanirbhar Swasth Bharat Yojna. We continue our promise to be a partner to the government's effort for a self-reliant India especially during early intervention in the areas of mother & child, cardiology, oncology and trauma & stroke."
Suresh Vazirani, Founder Chairman & Managing Director, Transasia Bio-Medicals Ltd.: "This is a great budget which recognizes the importance of health and healthcare in a country. The government has made a determined effort to increase India's current pitiful spending on healthcare to a global standard. Launch of the new Atmanirbhar Swasth Bharat Yojna with allocation of Rs 64,180 crore. is indeed a laudable step to focus on prevention of disease rather than just its cure. Hopefully this scheme will enable every Indian whether in a city or in a village for a free health check-up at 17,788 rural and 11,024 urban health centres equipped with diagnostic labs. This would go a long way in helping people prevent disease and thereby help make a Healthy India. A Healthy India can gain at least 2% of GDP which at present is lost due to loss of work days of millions of people. With a huge 137 percent increase in healthcare sector allocation to Rs 2.23 lakh crore, the Finance Minister has shown the Government's resolve to create a Healthy India. This is something every Indian should feel proud about. As our Hon. Prime Minister had earlier said that "Jaan hai to Jahan hai", he is now enabling people in India to take care of their Jaan. I do hope that our Finance Minister will not stop at just these two measures, important as they are. Creation of healthy India should be further enabled by reducing the out-of-pocket spend of 70% citizens which is amongst the highest in the world. This can be taken care by reducing the currently very high GST of 12-18 percent, which hospitals and clinics have to pay on purchases of medical devices.
Another crucial area that needs government's support is to make healthcare affordable for every citizen. But one can't make a Healthy India, if India remains dependent on imports to a level as high as 70 percent. The only way to make healthcare affordable is to have 'Make in India' medical devices. Government needs to change this by incentivizing 'Make in India' efforts so that 70% of medical devices are Made in India."
Himanshu Baid, Managing Director, Poly Medicure Ltd: "Considering that the budget was created in a difficult economic scenario, it is overall a good budget for the healthcare industry. The government has outlaid a budget of Rs. 2.23 lakh crore for healthcare sector, resulting in an increase of 137 percent relative to previous year's budget. The budget is focused on improving healthcare infrastructure and access to medical care across the nation. It extends support to the various wellness centers and public health labs in small districts. These will lead to better access to basic and quality healthcare facilities to the people in rural areas. Critical care hospital block in 202 districts and 3382 block public health units in 11 states are to be set up which will lead to timely access of urgent care to patients. Rs. 35000 cr. has been allocated for the COVID-19 vaccine which will help contain the disease and lead us towards COVID-19 free nation. Under the "PM Atmanirbhar Swasthya Yojana", investment on health infrastructure in Budget 2021 has increased substantially. The scheme will focus on developing capacities of healthcare systems, develop institutions for detection and cure of new and emerging diseases. Budget for this scheme has been set at 64,180 cr. over a period of next 6 years which should have been 3 years instead. The government has not taken into consideration to rationalize import duties and GST which could have given boost to local manufacturers. According to the budget, it will be considered from 1st Oct, which should have been done earlier by 1st April. Also, the government has not given any incentives to the domestic players or taken any steps to further local innovation and bolster R&D. We hope that these points pertaining to boost local manufacturing would be addressed by the government in the near future".
Anand K., CEO, SRL Diagnostics: "I congratulate the Finance Minister Nirmala Sitharaman for presenting a dynamic budget that is holistic and integrated with focus on health and well-being, inclusive development, human capital, innovation and R&D, along with primary, secondary and tertiary healthcare. The budget allocation of Rs. 2,23,846 crore for the healthcare sector in the present pandemic context will give the much required impetus to the sector and its very encouraging to see that the government has showcased a positive intent towards strengthen healthcare sector. With a clear thrust on vaccination drive, the additional budget allocation of Rs 35,000 crore for COVID vaccine is expected to strengthen our nation's battle against the virus. Further, the announcement with regards to setting up integrated public health labs in each district will help in building a cohesive healthcare system. All of these initiatives showcase the government's commitment to driving an integrated, sustainable, and humane approach to economic growth, that will have long term impact on the health and well-being of generations to come."
Arindam Haldar, CEO, Thyrocare Technologies: "We applaud the government for the budget announcement, highlighting Rs 64,180 crore investment over a period of six years to improve primary, secondary and tertiary healthcare, in addition to the National Health Mission. The critical announcement of building 17,000 rural and 11,000 urban health and wellness centres with integrated public health labs in each district marks for a monumental decision and the first step to making healthcare affordable and accessible to all. Healthcare has been bucketed under the six pillars of the Union Budget 2021-22 which underscores the importance of focus on healthcare. Preventive healthcare, is one of the critical areas called out in the budget under health infra, where the investment allotted will further encourage preventive healthcare, which is the need of the hour for our country. We at Thyrocare Technologies encourage preventive health check-ups and screenings to reduce the burden of sick care delivery which proves to be more cost heavy for citizens."
A Ganesan, Group Vice Chairman, Neuberg Diagnostics: "The honorable finance minister has presented a very progressive budget. With a substantial increase in healthcare outlay, the government has given a much needed shot in the sector's arm. With a substantial increase in healthcare outlay and key emphasis on public-private partnerships, the entire value-chain in the healthcare sector will gain new momentum and will see major collaborations amongst stakeholders. The announcements of centrally funded – Aatmanirbhar Health Yojana will strengthen our primary, secondary and tertiary healthcare, and setting up of 15 health emergency centers with a focus on curative and preventive health and wellbeing will scale up the delivery of affordable healthcare services".
Dinesh Chauhan, CEO, CORE Diagnostics: "We hail the Government's continued commitment towards healthcare & well-being with the new Atmanirbhar Swasthya Yojana, as an addition to the National Health Mission, with outlay of Rs 64,180 crore. This will provide the necessary impetus to the development of primary, secondary and tertiary healthcare and further support the nation to come out of the distress caused by COVID-19. Since it will also be used towards creating modern institutions & labs to cater for detection and cure of new and emerging diseases – the diagnostics industry will have a major role to play and work toward making healthcare more accessible and sustainable . This is a great move towards making healthcare services more democratised and we are committed towards bringing a significant change in the diagnostics space with early diagnosis and outcome-based line of treatment for patients."
Dr Krishna Ella, Chairman & Managing Director, Bharat Biotech: " It is a great step ahead, and far-reaching budget announcement, providing ₹35,000 crore for COVID-19 vaccination in 2021-22. The Finance Minister commitment providing more funds in order to contain the Coronavirus pandemic spread in the country and provide an effective, smooth path for the vaccination scheme will help contain, and lead our nation towards accomplishing a covid-19 disease free Bharat.
The lay out plan of a ₹64,180 crore spending plan for healthcare over the next six years to be spent on primary, secondary and tertiary healthcare, in addition to the National Health Mission is also a welcome move, which will strengthen public health services as 17,000 rural and 11,000 urban health and wellness centres and integrated public health labs to be set up in each district.The government focus, on three areas – preventive health, curative health and well-being, is also very reassuring. With this landmark budget the government of India has signalled its intention to make health a cornerstone of the future success of our country. The allocation to vaccines signals a shift to preventive health care, a validation of the fact that vaccines are the most cost effective health care interventions".
Sanjiv Navangul, MD & CEO, Bharat Serums and Vaccines Ltd, (BSV): "The union budget has given a substantial increase to bolster the healthcare sector in India. Rs. 35000 crore for COVID-19 vaccine and the commitment to the pneumococcal vaccine to be rolled out nationwide to avert child deaths is a massive boost. A well spent allocation of Rs. 64,000 crore under the new Atmanirbhar Swasthya Bharat Yojana scheme will show significant results thus labelling #healthyindia as an encouraging effort. And, the infrastructural push will certainly create many more skilled jobs revitalizing the overall ecosystem".
Ashok Patel, Founder & CEO, Max Ventilator. "Keeping in mind the learning curve from COVID-19, the government has done well to finally take the bull by its horns. Raising the healthcare budget by 137 percent at more than Rs. 2.23 lakh crore signals that resolve of the government and was a much-needed measure. More importantly, the government's inclusion of preventive medicine, curative medicine, and well being implies that it is taking a comprehensive view of health and not adopting an ad-hoc policy stance. The allocation of Rs. 64,000 crore plus funds for Atmanirbhar Health Yojana is also welcome signifying the intent and the will to make the country self-reliant for health. The expansion of PLI scheme with an allocation of Rs. 1.97 lakh crore for the next five years will also impart a boost to the medical device manufacturing in the country".
Dr Alok Khullar, CEO, Gleneagles Global Health City: "The budget's focus to strengthen the Indian healthcare infrastructure is really welcoming as it will help us to be well-prepared to handle disease outbreaks/pandemic. This move will reduce the burden on the healthcare workers and ensure increased accessibility for receiving critical and emergency care. Initiatives to promote fitness and sanitation will help in preventing lifestyle issues and reduce the probability of disease outbreak among the rural areas. The proposed set-up for a viability gap funding window to set up hospitals in PPP mode will help healthcare institutions to expand their network to smaller districts. The PM Jan Arogya Yojana would be a real boost that would help the Indian population to receive advanced technology care in their hometowns and reduce their burden of travelling to metro cities. However, the decision to levy a 5 percent cess on import of medical equipment could have been avoided, as it's used for advanced life-saving measures and helps India to be abreast with high technologies used around the world for healthcare."
Dr Rohinton Dastur, Director Medical, Bhatia Hospital: "In the aftermath of the COVID-19 pandemic, the country's healthcare sector that has been badly affected, required some major boost. Amidst the huge expectations on that front, we must say that the government has delivered positively. The Atmanirbhar Health Yojana that was unveiled will have a financial allocation of Rs. 64,180 crore over six years as announced by the FM. This is a momentous achievement for preventive healthcare. There have also been announcements for the setting up of wellness centres across rural as well as urban parts of the country which is a welcome move. Another very important requirement that the pandemic brought to the fore was the provision for greater investment for preparedness against other health emergencies that may arise in the future, by strengthening diagnostic testing capacities and contact tracing mechanisms. The government has lived up to this expectation where integrated public health laboratories have been announced in various districts and public health units in 11 states. Overall, the allotment of ₹2.35 lac crore is a welcome move especially considering the adverse circumstances caused by the pandemic. Of this, Rs. 35,000 crore has been earmarked for the COVID-19 vaccine, which is of course the need of the hour. Currently, the primary focus has to be on fighting the pandemic by making the vaccine available to all and then building the right infrastructure towards good health and to empower healthcare professionals. One just wishes that it hadn't taken a pandemic to create this awareness about the importance of the healthcare sector. Had it been realised much before; we would have had a stronger healthcare infrastructure to deal with the pandemic. However, Budget 2021 has definitely brought some positive news for the sector".
Amol Naikawadi, Joint Managing Director, Indus Health Plus: "The 2021 Union Budget looks optimistic for the healthcare sector. With Aatma Nirbhar Health Yojana, the sector will get a boost from a public health infrastructure standpoint. The initiative will enhance the quality of healthcare and strengthen the national center for diseases control in the country. In addition, due to this, most of the health needs of the low-income group in both urban and rural areas will be taken care of. Besides, Mission Poshan 2.0 and Jal Jeevan Mission will also help in improving public health and wellness. In my opinion, the budget should have also given some preference to private healthcare segment as well that has been a strong pillar of support during the pandemic. Apart from that, the focus should have been more on the prevention of NCDs, which are mostly asymptotic at the early stages but eventually treatment becomes difficult and expensive.
The further fortification by setting up additional 17,000 rural and 11,000 urban health and wellness centers along with integrated public health labs is also a good decision. However, emphasis on the preventive healthcare segment would have lowered the NCDs burden and the overall health expenses of the country."
Hasmukh Rawal, MD, Mylab Discovery Solutions: "We welcome the FM's allocation of Rs 64180 crore for the healthcare sector in the Union Budget 2021. The sector has received the focus in the budget it much deserved for so long. With the strengthening of disease control, healthcare information portals, expansion of labs at points of entries, level 3 labs and VRDLs, we believe India is on road to create infrastructure that will serve us for decades. this will help in developing capacities of primary secondary and tertiary care health systems, strengthen existing institutions and create new institutions to cater to detection and cure of new and emerging diseases."
Dr Shuchin Bajaj, Founder & Director, Ujala Cygnus Group of Hospitals: "The health allocation in the first digital Union Budget presented in the Parliament after the coronavirus pandemic, which has killed over 150,000 people so far, reflects that the government is serious about the steps needed to reach that level of health preparedness. The announcement of the new centrally funded scheme, PM Swasthya Yojana with an outlay of Rs 64,180 crore, will strengthen and develop primary, secondary and tertiary healthcare facilities even in the last miles of our nation. Even the budget outlay of Rs 2,23,846, a 137 per cent increase from the previous year, in health and welfare shows that our budget has no doubt focused on the preventive, curative and holistic healthcare. The allotment of Rs 35,000 crore for COVID vaccine research shows that more vaccines will be rolled out for the common masses and soon we will have a corona-free nation."
Dr Rajat Arora, Founder Director – Genestrings Diagnostics Center & Yashoda Hospital: "The healthcare community in India is happy to see the long-overdue focus on the sector finally taking an important part in the budgetary outlay. The increase of 137 percent in the healthcare sector budgetary outlay is unprecedented, not only in the history of India but anywhere in the world. The Rs 35,000 crore outlay for COVID-19 vaccines will certainly boost the confidence of healthcare workers as well as common people and is a decisive step toward resuming economic activities and tread on the path of growth. The capability-increasing measures such as setting up of integrated public healthcare laboratories in 11 states, a country-specific Indian center for disease control and prevention, 9 biosafety 3-level laboratories, and 4 regional National Institute of Virology across the country will play a significant role in not only addressing the current disease scenario but will also help in addressing the emerging challenges and the future pandemics. The focus on digitization in the form of expansion of health information portals is also a welcome step and will pave the way for the National Digital Health Mission (NDHM)".
Dr Anand Bansal, Medical Director at Action Group of Hospitals: "Amid COVID 19 pandemic the sudden and unprecedented changes the world had to go through, this budget was keenly awaited especially for the announcements in regards to the health sector. Healthcare is certainly a top priority of this budget as 137 percent hike in health & wellness budget has been announced. Our health sector needs more expenditure and infrastructure development. With the announcement of PM Atmanirbhar Health Yojana worth around Rs. 64000 crore we are certainly going to witness more inclusive growth in our healthcare in upcoming years, which is full of challenges in the current scenario. Also the amount of Rs. 35000 crore announced for COVID 19 vaccine will strengthen this fight against pandemic. As per health concerns this budget is satisfactory and full of vision, considering the challenges our healthcare is facing, things will surely need time to reflect results on a larger scale".
Dr Dharminder Nagar, Managing Director, Paras Healthcare: "The Budget 2021 has certainly focused more on healthcare than the previous budget. With an objective to improve healthcare infrastructure, the government allocated Rs. 64,180 crore will be invested over a period of six years to improve primary, secondary and tertiary healthcare in addition to National Health Digital Mission. This can lead to bringing in more hospitals under Ayushman Bharat more in Tier 2 and Tier 3 cities for the benefit of the poor in these areas. One of the key initiatives proposed in this year's budget is the addition of 17,000 rural and 11,000 urban health and wellness centres which is again a great move towards enhancing access to healthcare. Also, the government has proposed to set up integrated public health labs in each district with 3,382 block public health units across 11 states. The outlay of Rs. 1.41 crore for the Swachh Bharat 2.0 mission which will further help in the enhancement of sanitisation standards across the country. To effectively curb the pandemic of COVID-19, the government has also planned to set aside Rs. 35,000 crore for COVID-19 Vaccine in FY22. Overall, it's been an encouraging move from the government to promote healthcare in India with a holistic vision".
Dr Swadeep Srivastava – Founder & CEO – HEAL Health Connect Solutions: "Owing to the unprecedented COVID-19 pandemic and the public health emergency created, a significant increase of 137 percent in the healthcare budget was very much expected. The pandemic has taught us that there are no choices other than large scale public investment in building primary health centres, hospitals at the district and grassroots levels. The allocation of Rs. 2.24 lakh crore for healthcare in the budget 2021-22 will be the hallmark as Health and well-being is one of the key pillars of this year's budget proposal. Government's three focus areas in the health segment as mentioned by the finance minister were preventive, curative and well-being, which is the need of the hour. The allocation of Rs. 35,000 crore for COVID-19 vaccines is another big step to curb the rate of infection. The proposal in the budget for PM Atmanirbhar Swastha Bharat with an outlay of Rs. 64,180 crore over six years in addition to the Centre's National Health Mission program is another visionary step to build the capacity of primary, secondary and tertiary level health care facilities, to handle new emerging diseases. The proposal to launch an improvised Mission Poshan 2.0, and to merge some of the other nutrition-related programs to give this initiative a boost considering malnutrition as one of the primary concerns in India because of which many health-related indicators are still not improving, is another welcome move".
Kamal Narayan Omer, CEO, IHW Council: "The most noteworthy aspect of the healthcare outlay this year is a distinct integration of health and wellbeing with causative factors such as nutrition and clean air. This is a marked departure from the previous budget where curative features received the lion's share of the outlay. This change in approach, driven by the once-in-a-century pandemic, augurs well for the overall healthcare landscape of India. The massive 137 per cent increase in the budgetary outlay with a dedicated corpus of Rs 35,000 crore for COVID-19 vaccines was a much needed step and I congratulate the government on stepping away from the stock approach to healthcare. Recognizing the interlinking of health and socio-economic and environmental factors such as malnutrition, safe water and air pollution also deserves a special mention — it will help reduce the burden of infectious diseases as well as fatal non-communicable diseases such as lung cancer which has been tightening its grip on the Indian population for some time now."
Dr Tushar Grover, Medical Director, Vision Eye Centre: "On the back of the ongoing battle against COVID, there is no doubt that by raising the healthcare budget by 137 percent, the government has sent a huge signal. This was a long pressing need. Besides the National Health Mission, the Atmanirbhar Health Yojana with Rs. 64,000 crore plus funds is again commendable. The establishment of central institutions, the connection of public health labs and 15 health emergency operation centers will go a long way in addressing the needs of the health sector. The fact that the government has spoken of preventive health, curative health and well being altogether implies that all grounds have been covered. The Rs. 35,000 crore allocation to vaccines again reaffirms government's commitment to stem the Covid challenge."
Dr Somesh Mittal, Managing Director & CEO, Vikram Hospital Bengaluru: "We see this budget as a positive step in the right direction for healthcare sector. The allocation for Aatmanirbhar Health Yojana with an outlay of Rs 64,180 crore over six years in addition to the National Health Mission, is a welcome move. The government's focus on setting up Health Emergency Centres ,Urban Health and Wellness centres and Integrating public health labs will go a long way toward ensuring better healthcare and treatment options. I am also happy that the Government of India has announced Rs 35,000 crore for Covid-19 vaccine which will help lakhs of poor and middle class citizens. I am positive that all the measures taken in this budget to make healthcare available to all, will yield a positive impact on the economy. Lastly, let's not forget the Mission Poshan 2.0 launch that will tackle the malnutrition problems in India especially with the underprivileged and migrant population. Overall, the health and nutrition has received the focus it deserves in the budget."
Vishal Bali, Executive Chairman, Asia Healthcare Holding: "Healthy India is core to India's economic growth reflected in the 137 percent increase in outlay for health at Rs 2,23,846 crore in budget 2021. The focus on healthcare with 'Atmanirbhar Swasth Bharat Yojana' with an outlay of Rs 64,180 crore over 6 years shows that healthcare capacity building is now a key priority for the government. The Rs. 35,000 crore earmarked for COVID 19 vaccination drive will create the safety net for the country. The overall capital expenditure increase of 26 percent should drive infrastructure acceleration, the much needed GDP growth driver. Insurance sector which is an important pillar for any country should see an exponential growth with enhancement of FDI limit to 74 percent from 49 percent. Overall a forward looking budget to drive the 11 percent GDP growth for India in FY22 as pegged in the Economic survey 2020."
Varun Sheth CEO & Co-founder Ketto.org: "The proposed healthcare budget is a big move to boost the country's healthcare infrastructure. The pandemic has brought the healthcare system to the center stage, the allocation of Rs 2,23,846 crore, which is 137 percent higher than the previous budget is a major move. Additionally, the announcement of PM AtmaNirbhar Swasth Bharat Yojana with an outlay of Rs. 64,180 crore to develop the capacities of primary, secondary, and tertiary care Health Systems to build better capacity to combat future pandemic is a welcome step. However, it was surprising to see the government's significant schemes such as the Ayushman Bharat and Pradhan Mantri Jan Arogya Yojana (PMJAY) remained severely underfunded. The recent economic survey has emphasized a hike in public spending on healthcare services to reduce out of pocket expenditure (OOPE) from the current level of 65 percent to 35 percent. India has one of the highest levels of OOPE in the world, contributing to high medical expenditure which drives millions of families into the depths of poverty every year. In recent years, medical crowdfunding has played an instrumental part for such families, enabling them to afford quality medical care for their loved ones. It is encouraging to see that the government is prioritizing preventive care and well being, however, India needs a long term policy to build a healthcare ecosystem that enables quality and affordable healthcare to all."
Dr Gautam Sen, Chairman & Founder, Healthspring:"This Government ever since it came to Power has been giving importance to basic health issues like Public Health in "Swatccha Bharat" addressing better sanitation for all, Ayushman Bharat by Financing Tertiary Care Expenses for those who are below the poverty line, the 'Pradhan Mantri Jana Aushadhi Yojana" where Generic Medicines are made extremely affordable and culminating into "Health Policy 2017" where it rightly gives importance to Wellness and Health and invites all section of Healthcare Providers to participate in Nation's Health Outcomes. The present Budget brings back the focus on Preventive Health again which should not be misinterpreted as a signal to build more and more sophisticated hospitals sophisticated equipment with diminishing returns in health outcomes of a nation instead, focus on keeping an individual healthy and spending money on it. This can only happen if we have a Robust Primary Care System in the midst of a community and not a downgraded and neglected PHC as is present today. Performance Linked Incentive is another ingenuine method of financing which should be applied to the health sector as well. Any healthcare provider who provides better health outcomes in the community it serves which can be measured- must be incentivised and rewarded for better performance with the Accountability principle for all the stakeholders- the receiver, the provider and the institution which is financing the system. With these positive inputs in the present budget, we are in the path of Atmanirbhar Bharat".
MB Bureau
Source: https://www.medicalbuyer.co.in/union-budget-2021-22-announcement/