Uttar Pradesh – Telemedicine
Apollo TeleHealth has set up their Telemedicine centres across 120 identified Community health centres in the eastern part of Uttar Pradesh to bridge the gap of availability of specialists in the state.

Services which are available throughout these centres include Tele consultations across 13 selected specialties like General Medicine, Paediatric, Gynaecology, Skin &VD, Neurologists, Nephrologists, Urologists, Rehabilitation and physical medicines, oncologists, Gastroenterologists, etc.
These centres are well equipped with state-of-the-art medical devices for laboratory services and various vital testing like NIBP, SPO2, ECG, temperature, etc. Virtual consultations are being provided via the latest software/EMR to provide digital data to both the parties, i.e., service provider as well as patients in the form of dashboards. The centres will not only focus on primary health care but will also focus on mothers and childcare. More than 1.2 lac teleconsultations have been provided in a short span of 7 months from the date of inception.
These centres are operational 8 hours a day for 6 days a week. For critical ailments, patients are referred to higher healthcare facilities. Apollo TeleHealth aims to make a significant impact by focusing on affordable, accessible quality healthcare services to the 200 million underserved population of Uttar Pradesh.
Infusing Hope During the Pandemic!
Command: India awakening to Telemedicine.
At Apollo TeleHealth, we have witnessed an 100% increase in teleconsultations since the outbreak. These consultations are sought by suspected patients and even confirmed cases who are isolated at home. We are providing virtual care in COVID hospitals as well as Isolation wards to bring down the chances of infection. Screening such patients through teleconsultations as much as possible not only saves time and reduces the risk of cross-infection, it also allows healthcare providers to conserve and judiciously use protective equipment for healthcare workers.
A major part of the telehealth consumers today are people with existing illnesses and chronic diseases such as cardiovascular disease, hypertension, diabetes, etc. which need constant medical attention. Expecting women and children are also contacting their gynecologists and pediatricians respectively through the teleconsultation route to avoid exposing themselves to infection at hospitals. Over the near future, this shift is likely to convert into behavioral change for many people.
Key Highlights:
Over 60,000 telehealth services have been provided by Apollo Remote Healthcare through different initiatives and projects during the lockdown.
90% of teleconsultations are being provided from home through secure connections and EMR application.
Free COVID-19 teleconsultations have been enabled at over 150,000 CSCs across India at Gram Panchayat level through the Digital India initiative.
Activation of "Doctor on Call" Services with a toll-free number for the entire population of Bhopal and Indore in association with the Government of Madhya Pradesh.
UPHCs in Andhra Pradesh:

The centres are made responsible for recognizing & tracking of the COVID-19 suspected cases in the allocated area.
For achieving this, DMHO Office is allocating details of around 20 to 30 suspect cases daily to each UPHC, suspects are mostly foreign returnees.
ANMs and ASHA workers are getting it allocated as per their area demarcation and tracing the suspected cases.
Further to this ANMs, ASHA workers & Medical Officers (MO's on need basis) are visiting door to door of the suspected case and checking if they have developed any symptoms matching with COVID-19 if there are symptoms which are matching with COVID-19, the cases are referred to GGH/Area Hospital simultaneously informing the 'Rapid Response Team' formed by DMHO.
If the suspected case does not show any such symptoms, they will be kept under home quarantine for 14 days and followed every day by respective ASHA & ANM to find if they have developed any COVID-19 Symptoms.
There are forms given by DMHO to track the survey of COVID-19 which is getting filled by ANMs and ASHAs, further this data is getting updated online by all our Center ITs.
There is also a simultaneous survey conducted to trace out high-grade fever cases.

Successfully establishing a hotline to support queries from our stakeholders eg: NTPC less than 1 Lakh employees across the 54 plants and LM less than 25000 employees across India.
Successfully conducted COVID-19 awareness sessions for our RIVA residents and NTPC plant and trained across all project locations staff of less than 800 team members.
Doc on Call facility with dedicated COVID-19 hotline number enabled to multiple corporate. A surge of 700% seen in the last one month for inbound calls, with 70% enquiries are related to COVID-19.
Innovations and Innovative Projects
1. Applications of Drones in TeleHealth –
In a medical emergency, the crucial factor which determines the stabilization of a patient condition is how quickly medical care is available to the patient. The time taken by a road ambulance to reach the patient depends on many factors like traffic, distance, geographical accessibility to the location, etc. The duration could be too long to save a person who has suffered significant injuries and who needs immediate care.
Drones can be used in such situations for emergency telemedicine services as they can access an accident, disaster site or remote location with digital health tools, supplies and a telehealth link to the outside world in a short time. These actions can increase the survival chances of the patient.
Apollo Remote Healthcare, with its vision to provide quality healthcare accessible to all, is doing a pilot of Drone technology to deliver human organs and provide emergency care.
2. Internet of Things (IoT)
Adoption of innovative solutions for the delivery of better services has been at the heart of Apollo TeleHealth. For improving efficiencies and servicing maximum uptime, Apollo utilizes IOT technology to remotely operate equipment and optimize energy usage.
3. Internet of Medical Things (IoMT)
Utilization of unidirectional smart medical devices that update EMR directly without manual intervention has helped the medical fraternity coin the term Internet of Medical Things (IoMT). Apollo TeleHealth has inducted various connected devices that collect vital statistics of patients at remote centres and report into the EMR utilized by doctors at command centre. This effectively supports the diagnosis of conditions and reduces the turnaround time of service.
Apollo TeleHealth Value Chain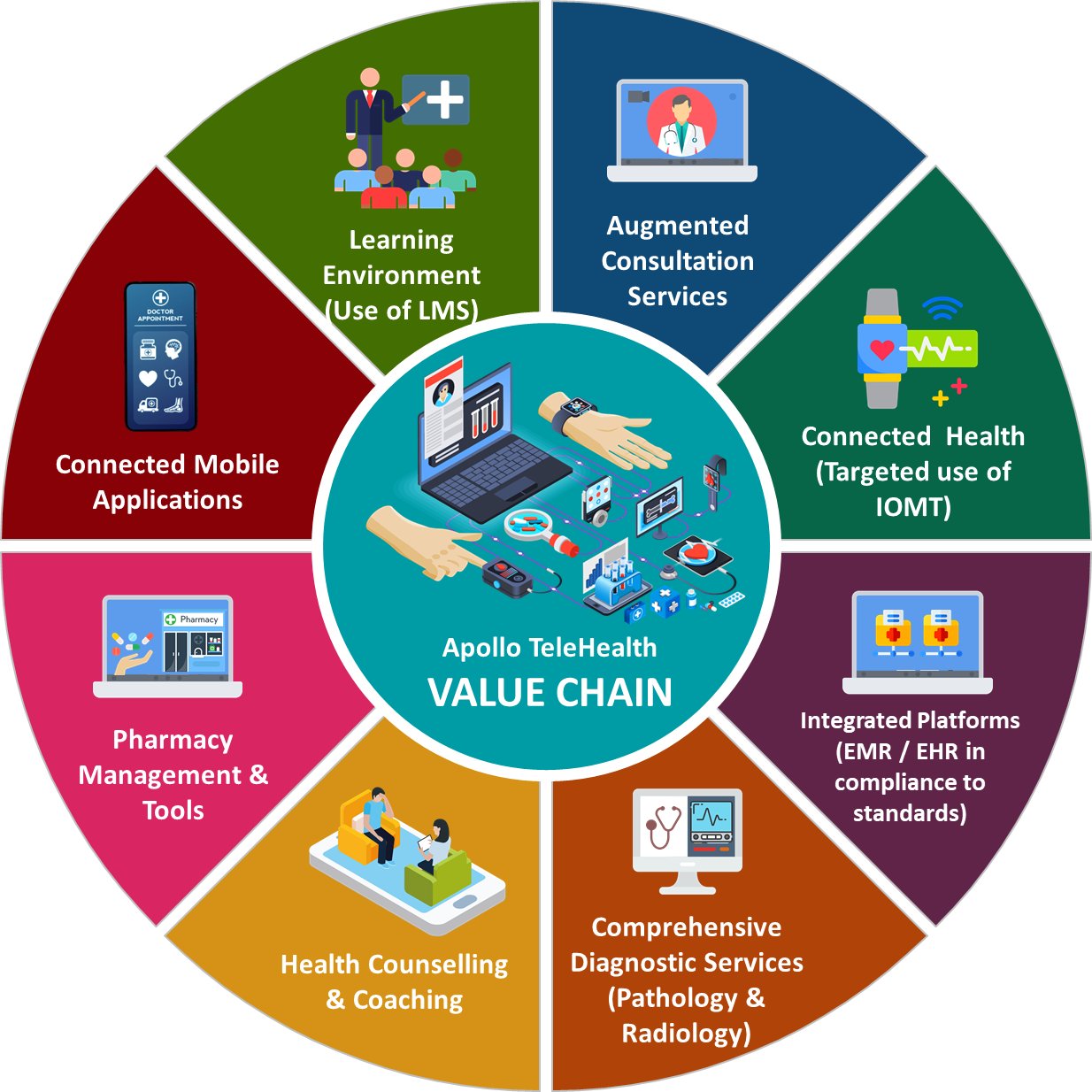 ENQUIRE NOW!
Fill-in your details here and our team will get in touch with you shortly.
Thanks for contacting us! We will get in touch with you shortly.
Something went wrong! Please try again.
ENQUIRE NOW!
Fill-in your details here and our team will get in touch with you shortly.
Thanks for contacting us! We will get in touch with you shortly.
Something went wrong! Please try again.