Brief
Introduction
Apollo TeleHealth is a unit of Apollo Hospitals Group. Apollo Telehealth harnesses the benefits of ICT and biomedical technology for bringing quality healthcare closer to underserved communities. It has a comprehensive e-Health solution enabling quality healthcare delivery on the cloud network.
"Apollo TeleHealth aims to reach a wide base of the population using modern Telehealth technologies in cost-effective and convenient ways. Our goal encompasses, providing accessibility to the remotest patient to reach expert medical practitioners, using state-of-the-art technologies, with an optimal economic outcome. We envision a healthier tomorrow, with quality healthcare accessible to all."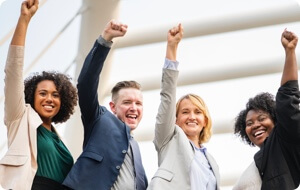 Our Digital Platform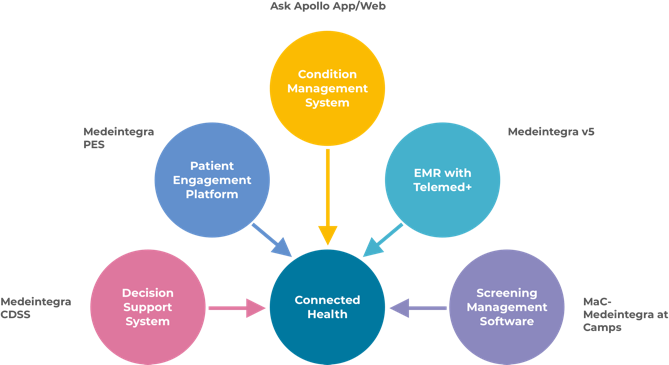 Supported by world-class Medical Response Centre and Contact Centre
Sustainable Telehealth Models
TELE PRIMARY HEALTH CENTRE (TELE PHC)
In order to address the immense need of providing essential primary healthcare services for the urban poor living in slum areas, Urban Primary Health Centres (UPHC) were upgraded to TelePHC's by TeleHealth. These centres not only provide essential services but have harnessed technology to deliver a spectrum of specialist services such as cardiology, orthopaedics, endocrinology, and general medicine through telemedicine.
TELE- OPHTHALMOLOGY
Apollo TeleHealth has set up Tle-Ophthamology centers with state of the art eye screening facilities across the country .eacg centre is equipped with automated Digital equipment viz; Fundus Camera,Auto-Refractometer, Lensometer Trail Set, and other eye screening devices with qualified Optometrist and ophthalmic assistant to run the center. Apollo TeleHealth manages the project electronically through Electronic Medical Record(MRC) keeping, the digital transmission of image captured from the equipment for eye screening and digital report through Telemedicine
TELE-EMERGENCY
In a first-of-its-kind healthcare service delivery innovation in India, Apollo TeleHealth is providing tele-emergency care which enables remote hospitals to consult our emergency care specialists round the clock to stabilize and monitor the patients in remote hospitals and/or during the transfer of such patients to major hospitals. Tele-emergency services to a population of 40K+ in the state of Himachal Pradesh through its 4 prominent Teleclinics at the height of 14000 ft above sea level in the Himalayan mountain range.
TELE RADIOLOGY
Apollo's State of the art Tele-Radiology facility has a blend of high-end Technology infrastructure and well trained, experienced radiologist with required national and international accreditation. This time tested PACS/RIS system has been supporting and servicing various hospitals of Apollo group for their Radiology report inferences. Timely diagnosis by Apollo Tele-Radiology has helped patients with major ailments for immediate surgical procedures and further management even in the remote location of Afghanistan for better patient care. Tele-Radiology reports are being delivered across 32 Clients- India & Overseas.
TELEHEALTH APPLICATION
TeleHealth app development has begun to change the healthcare industry landscape. Virtual Consultation is a subset of telehealth, which uses a broad range of modern technologies and specializes in providing medical services from a distance with the help of software and communication tools. We provide cloud-based telehealth app development services for medical practice, primary care clinics and physicians. Along with video-conferencing and e-prescriptions, telehealth apps when integrated with digital health data Electronic Health Records (EHRs) provide seamless connectivity. Additional features are medical consultancy/medical record (EMR), appointment booking, remote checkup and more.
WHITE LABELLED SOLUTION
Apollo Telehealth now offers complete rebranding of our entire solution. Having your own healthcare application with your own logo has never been this easy. For those think it's hard to believe, we could fit all use cases and workflows on a single application. Our white labelled is a custom designed to offers secure and state-of-the-art interactive solution. This means that each one of our clients can choose the features they need and get everything else out of their way so they can work towards excellent business outcomes.
APPLICATION INTEGRATION
Applications integration is the sharing of processes and data among different applications in an enterprise. For both small and large organizations alike, it has become a mission-critical priority to connect disparate applications and leverage application collaboration across the enterprise in order to improve overall business efficiency and enhance scalability. This is accomplished either by defining methods that can be shared, and therefore integrated, or by providing the infrastructure for such method sharing such as Web services/rest APIs. In this process of integration, the client should develop the customer UI as per the agreed process and the Apollo team will provide the API service level document and help in integrating the client's customer interface with the services. And in this type of integration the Client's App will be the source App for the patient to login and access all Apollo doctors and avail the virtual consultation seamlessly.
WEB HOSTING
A web host, or web hosting service provider, is a business that provides the technologies and services needed for the website or webpage to be viewed on the client website. When users want to view or want to connect with Apollo for Virtual Consultation all they need to do is just click Apollo Popup or call to action (Book an appointment) into their browser. Their computer will then connect to Apollo server and Apollo webpages will be delivered to them through the browser.
ENQUIRE NOW!
Fill-in your details here and our team will get in touch with you shortly.
Thanks for contacting us! We will get in touch with you shortly.
Something went wrong! Please try again.
ENQUIRE NOW!
Fill-in your details here and our team will get in touch with you shortly.
Thanks for contacting us! We will get in touch with you shortly.
Something went wrong! Please try again.