On June 13th, 2022, the Apollo TeleHealth center at Bharmour observed a unique medical case in a 9-month-old baby. The baby boy was with a condition of a persistent red patch under his arm for four long months. The baby had no medical history of diabetes, hypertension, heart disease, or other significant illnesses. The paramedics took the initial assessment and recorded vitals as a pulse rate of 102 beats/min, respiratory rate of 22 beats/min, SpO2 level of 99%, and a temperature of 98.6F.
We have organized a Teleconsultation with a dermatologist. Based on the clinical assessment, a diagnosis of Infected Eczema was given, and prescribed Momate 15g ointment was to apply two times a day for ten days. The doctor also advised maintaining proper personal hygiene. Give a bath to the boy twice daily with lukewarm water, moisturize the skin regularly, and avoid scratching the lesion.
The boy was brought to the center on June 20th for review and connected with a dermatologist. The doctor assessed the boy's condition. There was a significant improvement, and the doctor advised to continue the same ointment for another ten days. The baby's mother thanked the doctor for appropriate guidance.
Before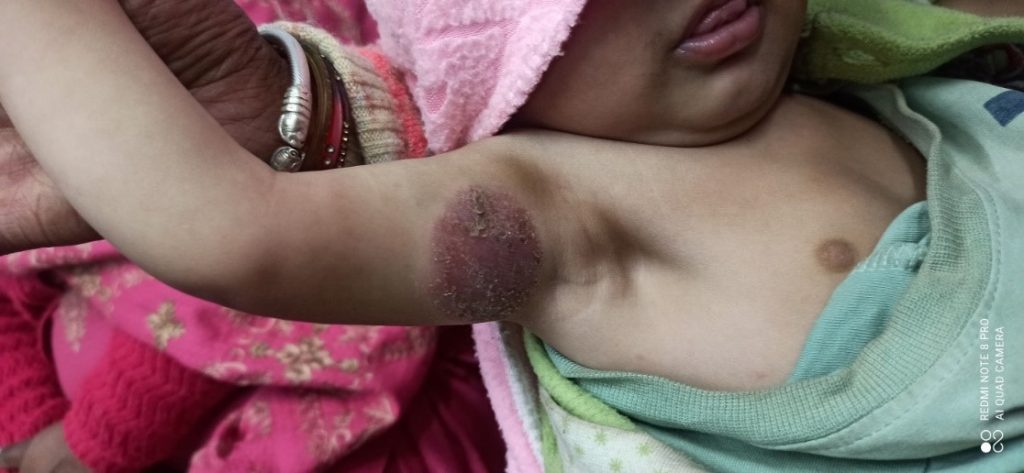 After